Some of our best memories took place in the water. We want the same for all our swimmers. This Safety Hub is your go-to for the latest information on swimming and water safety.
Anyone can talk and have opinions. We turn to the right experts and take the right steps to maintain the safety of your swimmers and family. From our family to yours, let's have a fun and safe summer!
Our staff will not come into contact with your swimmers and will teach or demonstrate from a safe distance away.
We are not COVID experts, we are swimming experts. We trust the guidelines laid out by the experts and adapt our processes accordingly.
We are advocates and champions of correct safety practices around all bodies of water. We compiled the latest standards & requirements.
NO-CONTACT swimming LESSONS
In response to the existing pandemic, we've made a few changes to how we offer our lessons and the safety precautions in place. The biggest change is a shift to no-contact swimming lessons. 
Simply put, at no time will our instructors come within 2 metres of you and your swimmer.
We've spruced up our instructor training and developed a testing tool to help us determine the safest way to teach. As a bonus, parents get to learn valuable teaching skills that can be used between lessons to improve progress. Let's take a closer look at how this will all work!

INTRODUCING: THE SWIM TEST
Because instructors will not be physically supporting swimmers in the pool, we need to determine if that support is needed. 
Swimmers aged 3 and under will require assistance from a parent.
Swimmers aged 4 and up:
The instructor will conduct a simple swim test during the first lesson of the season.
Swimmers must be able to swim 2 lengths of the pool without assistance while breathing.
If they pass, the instructor will continue to coach the swimmer from the side of the pool. If they are not successful, the parent needs to be in the pool with the swimmer to support them.


This summer, we will offer only no-contact private swimming lessons at outdoor pools and at-home pools. Here is the relevant safety information you need to know before you sign up. 
Lessons are back! Wooohooo! Dear Clients, As many of you are aware, the current lockdown has been extended by another
Read More »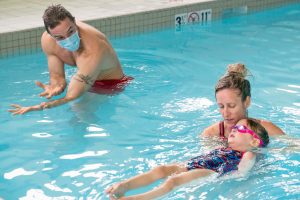 'No contact' lessons are now required under the current phase of Quebec's Economic Reopening Plan. The aquatic industry was just
Read More »
Eventually, health authorities will start easing quarantine rules. Parents and kids alike will be eager to get back into activities.
Read More »
We know that for many families, swimming lessons are inaccessible due to the ongoing pandemic, that is why we are excited to announce FREE Learn to Swim video lessons for beginner and intermediate swimmers.
We protect ourselves best when we arm ourselves with the latest statistics and reports. When it comes to Water Safety, the Canadian Red Cross is charged with keeping the general public informed with the latest numbers.
Every year, approximately 520 Canadians die needlessly in unintentional water-related fatalities.
Source: Canadian Red Cross
The absence of effective adult supervision is a factor in 75% of deaths by drowning for children under the age of 10.
Source: Canadian Red Cross
Children aged one to four accounted for 42% of fatalities involving backyard pools.
Source: Canadian Red Cross